More than a Market
The Market Family: Inside and Out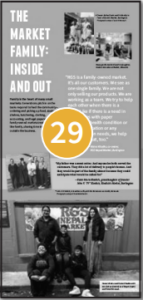 Family is the heart of many small markets. Generations pitch in on the tasks required to feed the community—ordering and picking up food, stocking shelves, butchering, clerking, accounting, and legal paperwork. Many family-owned markets treat customers like family, sharing time inside and outside the business.
RGS is a family-owned market. It's all our customers. We see as one single family. We are not only selling our products. We are working as a team. We try to help each other when there is a need. Like if there is a need in the families with paper works, any health condition or any interpretation or any transportation needs, we help them with that, too.
—Ratna Khadka, co-owner, RGS Nepali Market, Burlington
My father was a meat cutter. And my uncles both served the customers. They did a lot of delivery to people's homes. And they would be part of the family almost because they could anticipate what would be called for.
—Sister Marie Kieslich, granddaughter of founder John V. "JV" Kieslich, Kieslich's Market, Burlington
A Family Business
It takes many hands to run a market.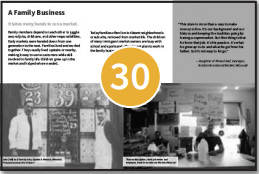 Family members depend on each other to juggle second jobs, childcare, and other responsibilities. Early markets were handed down from one generation to the next. Families lived and worked together. They usually lived upstairs or nearby, making it easy to serve customers while still involved in family life. Children grew up in the market and helped where needed.
Today families often live in distant neighborhoods or suburbs, removed from market life. Many market owners aspire to a different life for their children, who are busy with school and sports and have their own goals for the future.
This store is more than a way to make money to live. It's our background and our history and keeping the tradition going by having a supermarket. But first thing is that he loves that job. It's his passion. It's what he grew up to do and what he got from his father. So it's not easy to let go.
—Daughter of Ahmed Aref, manager, Nada International Market, Winooski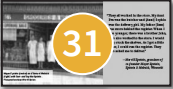 They all worked in the store. My Aunt Eva was the butcher and [Aunt] Sophia was the delivery girl. My father [Sam] was more behind the register. When I was younger, there was a brother John, who also worked in the store. I would help stock the shelves. As I got a little older, I could run the register. They also asked me to deliver.
—Merrill Epstein, grandson of co-founder Mayer Epstein, Epstein & Melnick, Winooski
In the fall, everybody would get together and make the sauerkraut. As children, we had little tasks to do. You had to cut all that cabbage. And then the spices, the vinegar. And by the end of the day, the barrels were already in the cellar, filled with their ingredients and then sealed because sauerkraut ferments.
—Sister Marie Kieslich, granddaughter of founder "JV" Kieslich, Kieslich's Market, Burlington
Where Customers are Family
Customers become like family members in the relationships forged within market walls. While food may bring people through the door, it is the trust and affection between customer and owner that draws them back. Business grows by word of mouth, as customers encourage friends and family to patronize the markets.
He has opened the door here, and the people come, because we know he has to pay the rent, the electricity, and we want to support this good thing he is doing.
—Victor Yongo, customer, M. Square Vermont, Winooski
As soon as I get into the door—they say, "Oh where you been?" This mean they looking for me and care about me, and it's nowhere, no place, that you can go and people care about you for just shopping. So I love them, they are my brother and sister.
—Issakha Kounta, customer, RGS Nepali Market, Burlington
It was always refreshing to go into the store to see the same familiar, friendly faces. Chick and his staff got to know all of us neighborhood kids by name. When I graduated from high school, he stopped by my graduation party.
—Sheila Cavanaugh, customer, Chick's Market, Winooski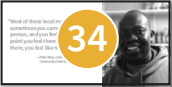 Most of these local markets, sometimes you came, talk to a person, and you feel like at certain point you feel there is a friendship there, you feel like related.
—Peter Keny, customer, Community Halal Store, Burlington
The Hard Work of Building a Better Life
Market ownership offers a path to independence and economic security for newly arrived families.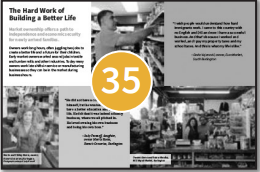 Owners work long hours, often juggling two jobs to create a better life and a future for their children. Early market owners worked second jobs in textile and lumber mills and other industries. Today many owners work late shifts in service or manufacturing businesses so they can be in the market during business hours.
I wish people would understand how hard immigrants work. I came to this country with no English and $45 and now I have a successful business. And that's because I worked and worked, and I pay my property taxes and my school taxes. And this is what my life is like.
—Dado Vujanovic, owner, Euro Market, South Burlington
He did not have a college education himself, but he wanted his children to have a better education and a better life. He felt that it was indeed a family business, where we all pitched in. He loved owning his own business and being his own boss.
—Judy Frumoff, daughter, owner Morris Rome, Rome's Groceries, Burlington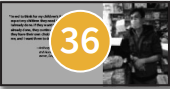 I need to think for my children's future, too. I don't expect my children they need to do everything what I already done. If they want to continue the work I already done, they continue. But if they don't want it, they have their own choice. I want them better than me, and I want them to do something different.
—Anthony Tran, son of owners John and Huong Tran, Thai Phat Market; owner, Saigon Kitchen, Burlington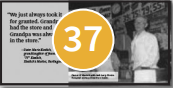 We just always took it for granted. Grandpa had the store and Grandpa was always in the store.
—Sister Marie Kieslich, granddaughter of founder "JV" Kieslich, Kieslich's Market, Burlington