More than a Market
A Social and Civic Center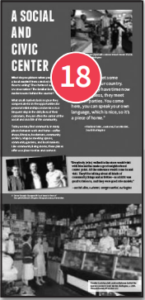 What do you picture when you think of a local market? Items stacked on shelves, floor to ceiling? The chatter of customers in conversation? The familiar face of the market owner behind the counter?
What small markets lack in space they compensate for in the opportunities for personal relationships and service. As a frequent stop in the daily lives of their customers, they are often the center of the social and civic life of the community.
Today we may find community in many places between work and home—coffee shops, libraries, bookstores, community centers, religious meeting spaces, community gardens, and local markets. Like community living rooms, these places offer us a place to relax and connect.
Everybody [who] walked in the store would visit with him and he made a good neighborhood center point. All the salesmen would come in and visit. They'd be talking about all kinds of community things and activities—as a kid, it was good to listen to, and they were good role models.
—Michel Allen, customer, George's Market, Burlington
Usually, you meet some people from your country. Not everybody have time now to meet, I guess, they meet home or parties. You come here, you can speak your own language, which is nice, so it's a piece of home.
—Vladimir Selec, customer, Euro Market, South Burlington
A Place of Shared Experience
Whether traveling by steamship in 1922 or by plane in 2022, the migration journey embodies both loss and opportunity.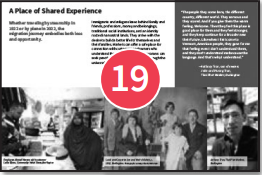 Immigrants and refugees leave behind family and friends, professions, money and belongings, traditional social institutions, and an identity rooted in ancestral lands. They arrive with the desire to build a better life for themselves and their families. Markets can offer a safe place for connection with customers and owners who understand the experience. Here, newcomers can seek practical advice and form bonds through the universal language of food.
The people they come here, the different country, different world. They nervous and they scared. And if you give them the warm feeling. Welcome. Then they feel this place is good place for them and they feel stronger, and they keep continue for a broader new their future. Like when I first come to Vermont, American people, they gave for me that feeling even I don't understand them, and they don't understand me because the language. And that's why I understand.
—Anthony Tran, son of owners John and Huong Tran, Thai Phat Market, Burlington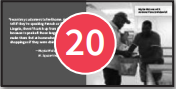 I want my customers to feel home. And I can tell if they're speaking French or Swahili or Lingala, then I'll catch up from there, because I speak all those languages, and make them feel at home where they can do a shopping as if they were doing it back home.
—Muyisa Mutume, owner, M. Square Vermont, Winooski

We would bring Christmas baskets and a turkey to people. My father was very generous. He would give a lot of foodstuff to the community, to people that he knew about. Because you had that time where things were a little tough when you had the woolen mills that were running. And everybody was working at the woolen mills. Then the woolen mills closed.
—Larry Roy, son of owner Emile Roy, Roy's Market, Winooski
Supporting Each Other
Customer service in local markets is more than a business transaction.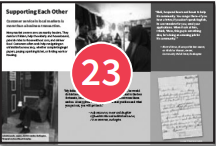 Many market owners are community leaders. They mentor children, help the elderly and housebound, provide rides to those without cars, and deliver food. Customers often seek help navigating an unfamiliar bureaucracy, whether completing legal papers, paying a parking ticket, or finding work or housing.
Abdi, he spend hours and hours to help his community. You can go there—if you have a letter, if you don't speakEnglish, he can translate for you, send your applications. When I look at him, I think, "Wow, this guy is something else, he's doing an amazing job for his community."
—Ahmed Omar, Kismayo Kitchen owner, on Abdi nur Hassan, owner, Community Halal Store, Burlington
My father was very helpful. Anyone that needed it, he would do his best to help out. He always told us to be kind to the less fortunate, because there was a very thin line between them and us. At any given time, we can be in that position and what you put out, you will get back.
—Judy McLaurin, owner and daughter of founders John and Mildred McLaurin, J & M Groceries, Burlington

It's not just shopping. We talk movies, we talk sports, we talk about future plans, family life…market is a great place to meet a lot of people, a lot of cultures.
—Dado Vujanovic, owner, Euro Market, South Burlington
A Neighborhood Gathering Place
Markets are a thread that connects people.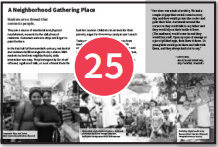 They are a source of emotional and physical nourishment, woven into the daily lives of residents. Customers arrive to shop and linger to pass the time.
In the first half of the twentieth century, residential and commercial life mingled in city centers. With markets tucked into neighborhoods, daily interaction was easy. People stopped by for a loaf of bread, a gallon of milk, or a cut of meat from the butcher counter. Children ran errands for their parents, eager for the penny candy at arm's reach.
Today some customers live farther away from markets in neighborhoods or suburbs with available housing. They may shop less often and arrive by bus or car. For immigrants and refugees, however, the personal connection at small markets remains an important part of their lives.
Our store was a hub of activity. We had a couple of guys that would come in every day, and they would go into the cooler and grab their beer. And sneak around the corner so they could talk to my father and they would sip on their bottle of beer. [The mailmen] would come in and they would buy stuff. Open up a jar of sausage or a jar of pickled eggs, then leave it there. Us young kids would go in there and talk with them, and they always had a lot to say.
—Larry Roy, son of owner Emile Roy, Roy's Market, Winooski

You know why it is important to me? That's the place I can find only our African food, everything culturally, it's easy also to connect as both we are immigrants. You know when you are coming from a different part of the world, you always want to eat the food that you grow up with.
—Malinga Mukunda, customer, RGS Nepali Market, Burlington

You didn't have to go through a credit check to get the food. A little slip was made, it was all done discreetly. And my father, my uncles knew who needed the credit. The slip would be put on a nail, not too sophisticated an accounting system. And eventually, when the person could pay, they would come back in and it was a trust system.
—Louis Mario Izzo, grandson of founders Louis and Concetta Izzo, Izzo's Market, Burlington

I always tell people I'm here for them 24/7, if they need something. There's times when people are running late, can't make 'til seven, we'll wait here for them. We're doing deliveries to homes during the COVID times. I would donate my bread for Ramadan months to my community so people in a mosque, they can have a dinner.
—Dado Vujanovic, owner, Euro Market, South Burlington