More than a Market
Specialty Foods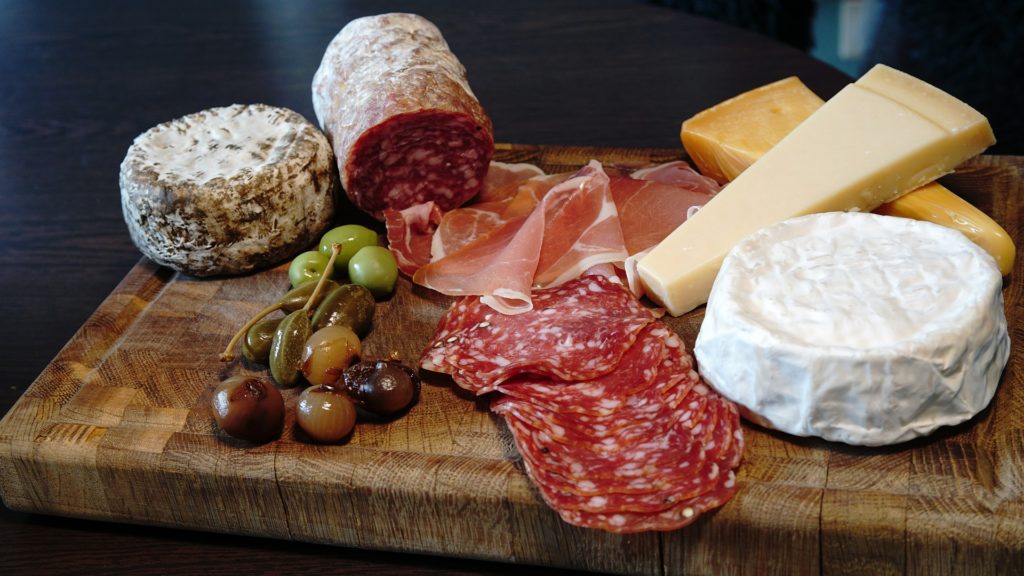 So really you know it's something that I miss. The area was run down but you know, you think about it now, having a diverse neighborhood where everybody's American, but they're proud of their ethnic background and people know that they can get foods that they want to try and there's different smells of the foods. I miss that. —Louis Mario Izzo, grandson of founders of Izzo's Market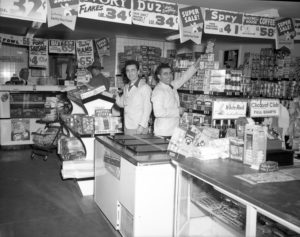 The immigrants who settled in Burlington and Winooski brought with them food traditions that sometimes required ingredients locally unavailable. Some market owners ordered specialty items from larger cities, but, for the most part, they carried typical American ingredients – bread, canned vegetables and fruits, dairy products, cereal, and other staples– to appeal to a broad customer base. Many families cultivated the vegetables important to their traditional recipes in large backyard gardens.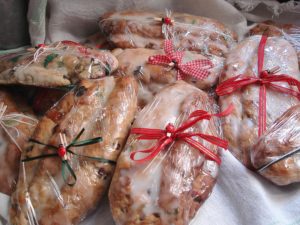 Families also placed bulk orders with community members traveling to Boston, New York, or Montreal, or ordered by mail. At holiday time, markets often carried traditional foods such as stollen, a German fruit bread; tourtieres, a French Canadian meat pie; or calamari, an Italian delicacy, to mark the season.
Izzo's Market
An Italian market in Burlington 1922 - 1974
My brother…would talk about going in the Merola's store down the street or Izzo's. And just a variety of Italian cheeses. This all came from Italy, and every so often they'd get calamari and bring in big tubs of calamari around Christmas time. And he says you could blindfold him and take him in any store and he could tell you where he was just from the smells, the cheeses, the cold cut meats. —Michel Allen, Lebanese neighbor and friend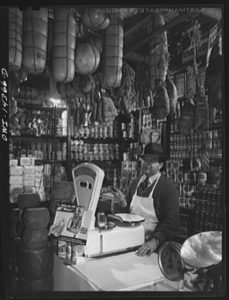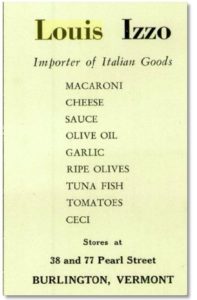 Izzo's Market carried Italian specialty foods, as well as staples. In the early years, customers scooped macaroni and crackers out of barrels and bought beer in kegs. The air was thick with the smell of Italian cheeses like mozzarella, ricotta, and balls of provolone, which hung from the  ceiling dripping wax in summer. Cheeses and other specialty items like pepperoni, salami, mortadella, and sausage arrived from larger import businesses in Boston.
At Thanksgiving and Christmas, Concetta Izzo hosted a holiday gathering of extended family and "strays" with nowhere to go. The table groaned with the weight of turkeys and the fresh pasta that she made and dried on the clothesline. Dessert featured cannolis and bowls heaped with cicerchiata, small balls of dough dipped in honey, along with San Pellegrino mineral water and anisette to aid digestion.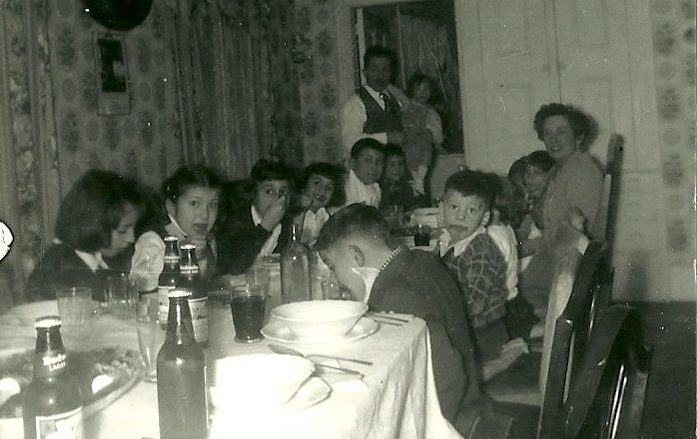 Kieslich's Market
A German Market in Burlington 1911 - 1983
Customers eagerly awaited announcement that a new batch of Kieslich's homemade sauerkraut was in stock.  Preparing the market's famous sauerkraut was a family affair.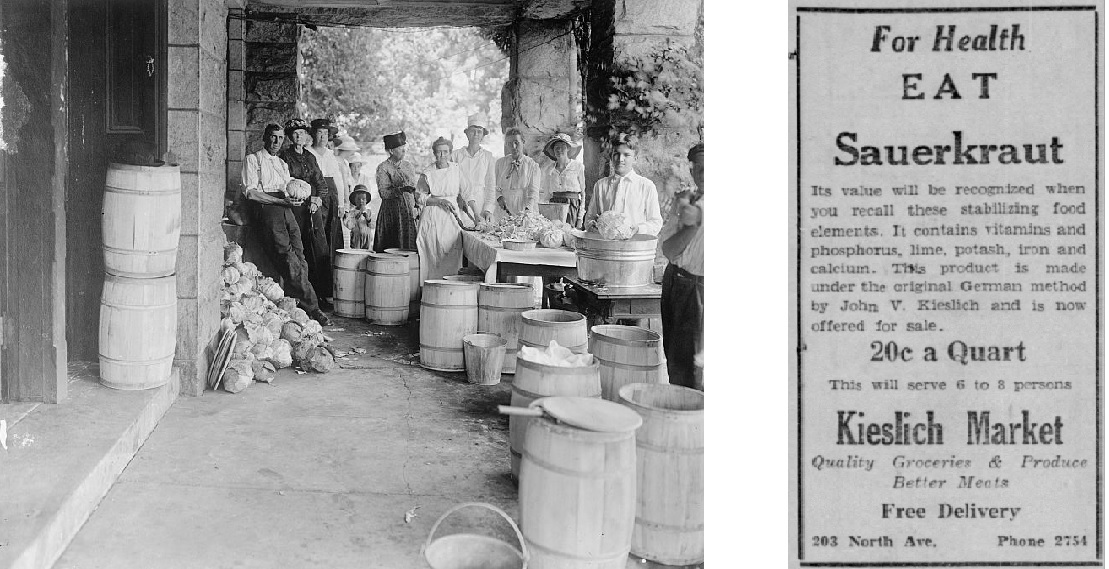 George's Market
A Lebanese Market in Burlington 1935 - 1962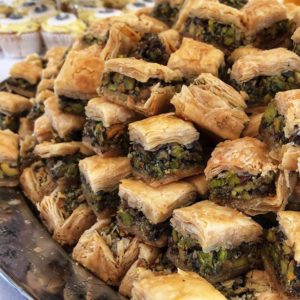 George's Market provided top quality meat for Lebanese recipes, but it did not stock special items required for Lebanese cooking.
Corey's Market, another Lebanese-owned market two blocks north, did. Owners Emery and Mary Corey sold olives, dates, Syrian bread, and fine wheat bulgur, which customers scooped out of a fifty-pound bag. Mary sold homemade fatayer, a savory pastry stuffed with onions and either spinach, dandelion greens, or ground lamb, and baklawa, a sweet pastry filled with walnuts, sugar, and spices.
For the spices and other ingredients unavailable locally, the Lebanese community relied on families who had relatives in New York or Boston to bring back bulk orders. They also ordered by mail from Sahadi's in Brooklyn, New York.