More than a Market
Specialty Block 4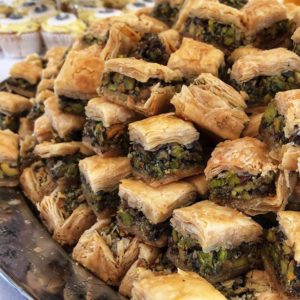 George's Market provided top quality meat for Lebanese recipes, but it did not stock special items required for Lebanese cooking.
Corey's Market, another Lebanese-owned market two blocks north, did. Owners Emery and Mary Corey sold olives, dates, Syrian bread, and fine wheat bulgur, which customers scooped out of a fifty-pound bag. Mary sold homemade fatayer, a savory pastry stuffed with onions and either spinach, dandelion greens, or ground lamb, and baklawa, a sweet pastry filled with walnuts, sugar, and spices.
For the spices and other ingredients unavailable locally, the Lebanese community relied on families who had relatives in New York or Boston to bring back bulk orders. They also ordered by mail from Sahadi's in Brooklyn, New York.