More than a Market
Inside Out Block 3

Located a stone's throw from the Lakeside park, Danis's Cash Market was the physical and social center of the community. Here neighbors purchased the cuts of meat central to French-Canadian cuisine and stocked up on refreshments before heading over to watch baseball games in the park. Over the years, a hall on the second floor served the community as a school, a church, and an event space.
The second-story hall of the store was a regular gathering space for the community. Billiard hall, youth center, special event space—it welcomed all generations. During the week and in summertime, a Danis family member managed an informal youth center, where kids gathered to play the jukebox, dance, and watch movies.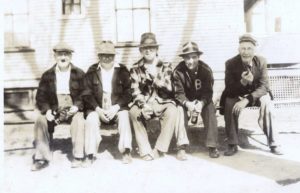 For a time, it was the location of the St. John's Club, a social and fraternal organization established in Lakeside in 1910. The Club was a chapter of the Union Saint-Jean-Baptiste, a benefit society founded in 1899 to protect the welfare of Franco-Americans.